Chefs We Love
Recipe from the Bouchon Bakery Cookbook
Darcie Boschee (Pullman)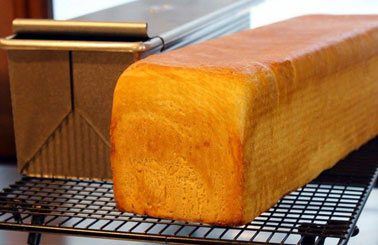 Ingredients
547 grams all-purpose flour
6 grams instant yeast
32 grams sugar
11 grams fine sea salt ( scant teaspoon table salt )
285 grams water ( warm water )
35 grams beaten egg
25 grams unsalted butter
79 grams cream cheese
egg wash
Directions
* In a large mixing bowl, place flour and yeast, use a whisk to combine it together; add in the sugar and salt, stir to combine. Rub in butter and cream cheese to the flour mixture until well combined. Make a well in the center and pour in the water and egg; use a sturdy wooden spoon to stir the mixture until it forms a shaggy dough and let rest for 10 minutes. Transfer dough to a clean work surface and knead
Show more +
Blueberry Mini-Loaves
Michelle Hale
Ingredients
¼ cup butter, softened
½ cup sugar
1 egg
¾ cup milk
¼ tsp. vanilla
1-3/4 cup flour
2-1/2 tsp. baking powder
¼ tsp. nutmeg
¼ tsp. salt
1 cup blueberries
Directions
Preheat oven to 400 degrees Fahrenheit. Cream butter and sugar. Add egg and mix well. Beat in milk and vanilla. Combine dry ingredients and stir into creamed mixture just until blended. Toss a tablespoon of flour over blueberries and stir into batter. Spray or oil mini-loaf pan and spoon into batter. Bake 20-25 minutes until they test done. I love these with a dollop of Greek yogurt. Hubby prefers butter.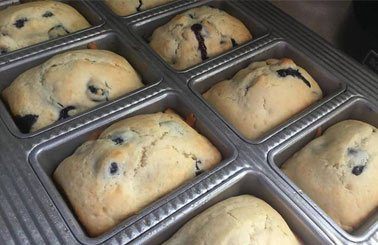 Basic Margherita Pizza
Michelle Hale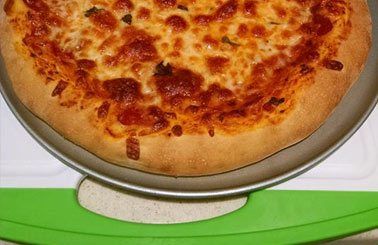 Ingredients
Use pizza dough recipe of your choice, or store bought from the refrigerator section of your grocery store is fine. I use the following recipe to make the dough in my bread machine: combine the following ingredients in the pan of your bread maker:
1 1/3 cups water
1/4 cup of extra-virgin olive oil
3 1/2 cups of unbleached all-purpose flour
1 tbsp sugar and d2 tsp yeast
Directions
Set your machine for the dough cycle. When complete, turn the dough out onto a lightly floured work surface. Divide into 2 portions (makes 2- 12" - 14" crusts). Flatten each portion into a disc by kneading a few times, then folding the edges into the center. Cover with a damp towel on the work surface and let rest for 30 minutes until the dough has increased about 20 percent in size.
Show more +
Cinnamon Buns
Sarah Ebert
Ingredients
Ingredients for Dough
3 3/4 - 4 cups unbleached all-purpose flour
2 1/2 tsps. active dry yeast
3/4 cup skim milk
1/3 cup sugar
1/3 cup butter
1/2 teaspoon kosher salt
2 eggs
1/4 very warm water
Ingredients for Filling
4 tbsps. melted butter
1/2 cup light brown sugar
3 tsps. ground cinnamon
Ingredients for Frosting (Optional, I love them by themselves:)
1 cup powdered sugar
1 tsp. vanilla extract
1/4 skim milk
Directions
Step 1: MAKE DOUGH Using a measuring cup combine water with a pinch of sugar, then sprinkle yeast over the top and allow up to 10 minutes to react.
Step 2: In a small pan heat milk, butter and sugar on medium heat. Whisk until combined, do not let scald.
Step 3: Using your mixer with the dough hook attachment, add remaining dry ingredients (salt and flour). Combine all ingredients into mixer and wait for them to blend together stopping to scrap the side occasionally.
Step 4: Spray a large bowl lightly with canola oil, scrap dough into bowl turning to coat and cover with plastic wrap. Set aside until dough is doubled in bulk (1-1 1/2 hrs.).
Show more +
Binulatte aka Sausage Bread
Rosanne Castronovo Robinson
Ingredients and Directions
Dough:
Use 1 of any recipe for dough or thawed frozen bread loaf
1# ground pork
Put into a skillet and brown…season with Salt, pepper, onion powder and garlic powder to your liking. Drain well, remove from skillet and let cool.
2 or 3 medium onions
In the same skillet, slowly cook the onion in some of the drippings from the pork.
Cook until onion is limp and translucent. Drain and let cool.
Preheat oven to 350 degrees
Roll the dough into a rectangle about 10" x 13"
Spread the cooled sausage evenly over the dough Top with the cooked onion. If you would like to add a little bit of shredded mozzarella place it on top of the onion.
Starting at the top end farthest from you roll the dough snugly, towards you. Pinch the seam shut and also fold under the ends. Lightly shape it so it fits to the size of Pan.
Show more +
Chocolate-Chip Banana Bread
Cheryl Cannon
Ingredients
1/2 c butter, softened
1 c sugar
1 t baking powder
1/2 t baking soda
1/2 t salt
2 large eggs, room temperature
1 1/4 c mashed very ripe bananas, about 2 large
1 t vanilla
2 c flour
1 c chocolate chips
1/2 c walnuts, optional
Directions
Heat oven to 350 degrees F. Grease a 9x5 loaf pan or 8 mini loaf pans.
Beat butter, sugar, baking powder, baking soda and salt in a large bowl with electric mixer until fluffy. Beat in eggs one at a time until blended. Beat in bananas and extract. Gradually beat in flour on low speed, just until blended. Stir in chips & nuts. Pour into prepared pan(s). Bake 60-65 minutes until a toothpick comes out clean for big loaf. Bake 25 minutes for small loaves.
Recipe from internet - unknown source