FAQ Use and Care
USA Pan Use and Care FAQ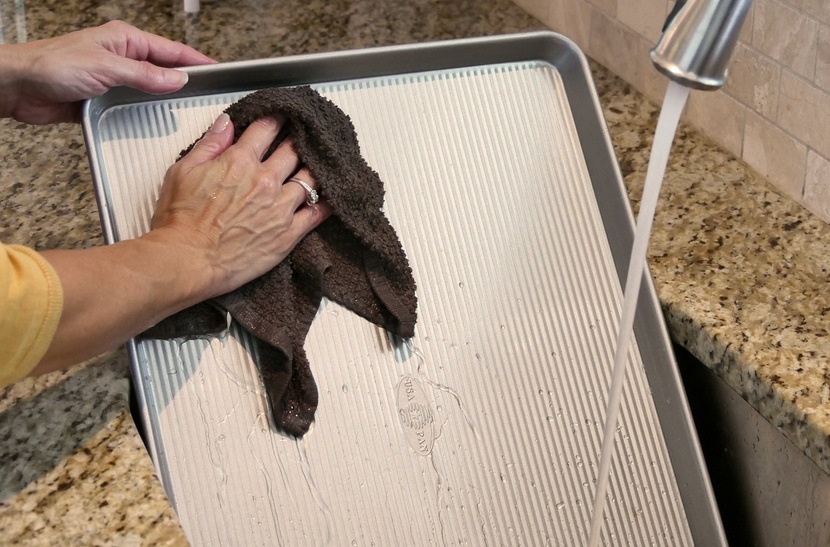 Bakeware Use and Care
How should I clean my USA Pan bakeware?
The recommended method of cleaning USA Pan bakeware should be to gently scrub pans with a sponge or nylon pad, mild dishwashing soap, and warm water. Avoid using harsh abrasives or steel wool pads as this can harm the non-stick coating and shorten the lifetime of the pan. Our bakeware has a non-stick silicone coating that makes clean up easy and should not require vigorous scrubbing. Hand washing will be quick and easy with minimal arm work required. Pans should be washed soon after every use to maintain the pans appearance over time to avoid staining. Avoid using cola to clean.
What coating does USA Pan use on their pans?
The coating used on most USA Pan bakeware is Americoat Plus©, our proprietary silicone release coating, which is the most advanced industrial coating available and is used on almost every commercial pan in North America. It is a natural non-stick and non-toxic silicone that is PTFE, PFOA and BPA free. Americoat Plus© is clear in appearance and lets baked goods release quickly and effortlessly. Simply wipe the surface or wash with warm soapy water, and your USA Pan bakeware will be a lifetime companion for your kitchen.
How high of a temperature can I bake with my USA Pan bakeware?
The aluminized steel in USA Pan bakeware conducts heat efficiently; we recommend that you pay careful attention to oven temperatures and baking times the first few times you bake. Reduce time and temperature if necessary. We do not recommend exceeding baking temperature of 450º F because it could possibly compromise the silicone coating.
What type of utensils should I use on my USA Pan items?
We recommend using silicone, wooden, or nylon utensils. Do not use sharp metal utensils to scrape food from the pan as this will chip the coating off of the pan.
How is USA Pan bakeware measurements determined?
Our measurement dimensions are calculated by the baking surface of the pan. This means that the exterior panel is not included in the measurements that are provided.
How should I prepare my pan before use?
USA Pan bakeware has a superior release that does not require any greasing prior to use. If you would like to grease or flour your pan before use we recommend you follow recipe instructions. We do not recommend using cooking sprays as this may stain bakeware.
Does my USA Pan bakeware come with a warranty?
Yes, a manufacturer's limited lifetime warranty is supplied with every USA Pan bakeware product. Please email support@usapans.com for warranty information.
How should I wash my USA Pan cooling rack?
Before use, wash cooling rack with warm, soapy water and use a soft sponge, nylon pan or hand towel to remove baked on goods. Avoid using harsh pads and abrasive cleaners. Dry thoroughly before storing.
Is my cooling rack oven safe?
Yes, all USA Pan cooling racks can be used to bake with in all oven types. Our cooling racks are customized to fit perfectly in each of our individually sized sheet pans. Including, the extra large sheet pan, half sheet pan, jelly roll pan and quarter sheet pan.
What temperature can I bake with using my cooling rack?
We do not recommend exceeding baking temperature of 450º F because it could possibly compromise the nonstick coating.
Why is USA Pan bakeware made with aluminized steel?
USA Pan is made with heavy gauge aluminized steel, which is the material of choice for the professional baker. It offers superior heat transfer, strength, corrosion resistance, and durability. The gauges selected for USA Pan bakeware were gleaned from years of performance data. Most pans also incorporate steel wire in the rims of the pan to resist warping and to enhance pan strength.
Why does USA Pan bakeware have ridged surfaces?
USA Pan's fluted surfaces are a unique rib-like pattern that enhances baking characteristics by allowing air-flow under the baked good. The feature reduces surface contact between the pan and baked goods allowing superior release.
What is a jelly roll pan?
The USA Pan jelly roll pan measures 14 ¼ x 9.38 x 1 inches and has one inch wired rims around all four sides. A jelly roll pan is a flat, rectangular sheet pan with raised sides that is a smaller version of a half sheet pan. In addition to dessert rolls and cookies, this pan is perfect for roasting vegetables.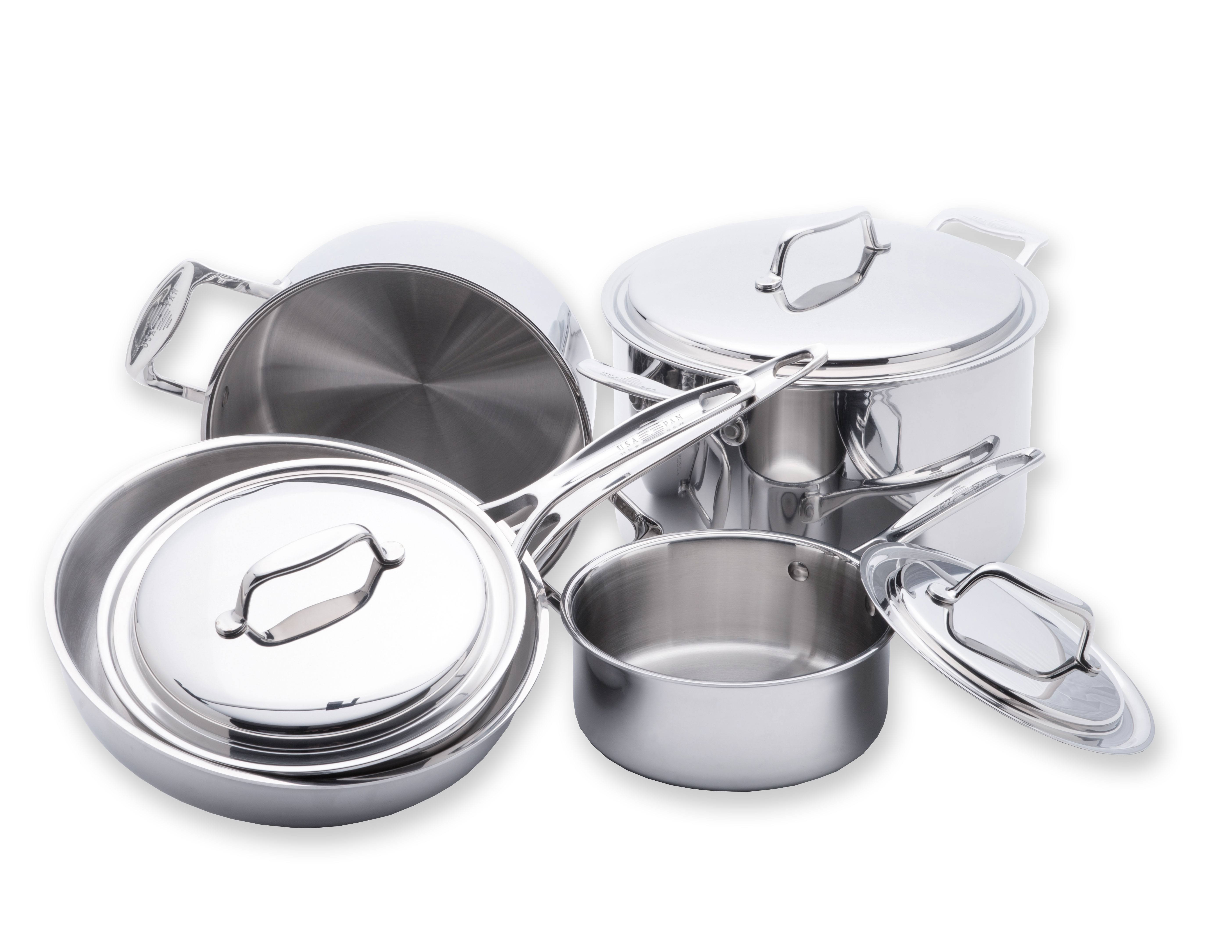 Use and Care for Cookware
Is USA Pan cookware compatible on an induction stove?
Yes. USA Pan cookware can be used on all stove types including induction. USA Pan cookware can also be used on cooking surfaces such as gas, electric, ceramic glass, and halogen.
How do I wash my USA Pan Cookware?
Before first use, wash each piece thoroughly in hot soapy water mixed with one-half cup vinegar to insure that all manufacturing oils are removed. After initial washing, normal washing in hot soapy water or in a dishwasher is all that is necessary.
How do I remove burned food from my USA Pan Cookware?
If particles of food become burned in your pan, fill the pan with hot water if the pan is already hot. Similarly, fill the pan with cold water if the pan is cold. Let the pan soak until the burned particles easily lift off. If a stubborn burn has occurred, partly fill the pan with water and bring to a boil. Use a wooden spoon to remove burned particles. If a stain remains, remove with a non-abrasive stainless steel cleaner.
Sometimes I have noticed a stain or discoloration after cooking. How can I remove it?
Occasionally, when cooking starchy foods or searing meats, a stain may appear on the inside surface of the pan or a blue or golden brown discoloration may appear from overheating the unit. These stains are easily removed with a good abrasive stainless steel cleaner. First, wet the pan and remove excess water. Sprinkle with cleaner. Then, using a paper towel or cloth, rub the cleaner over the stained area, rinse and dry.
How do I maintain the shape of my USA Pan Cookware?
To resist warping, do not put cold water into a hot pan. Heat the pan gradually. Do not place an empty pan on high heat.
What is Vapor Seal Cooking?
USA Pan Cookware features a unique vapor cover design seal that enables waterless-greaseless cooking. Waterless-greaseless cooking is possible because a vapor seal is created around the cover; and heat is distributed evenly across the bottom and up the sides of the cookware. This process cooks food in its own natural liquids for nutritious, flavor-filled meals. Vapor seal cooking is very different from traditional cooking because you do not need to add moisture or fats.
How do I use the Waterless Cooking feature?
Always use the correct size pan, one that the food most almost nearly fills. Cooking with a pan too large for the food quantity can destroy vitamins and minerals, dry out your foods, and possibly cause your food to burn. Fill a pan with fresh or frozen vegetables. Rinse in cold water, and then drain the water. Make sure enough water clings to the food to combine with natural juices to cook food in its own moisture. If cooking dried foods, such as rice, pasta, or dried beans, you will need to add some water.
Cover the pan, place on a burner, and turn burner to medium heat. When lid is hot to the touch, or vapor escapes around the lid and the lid can be spun freely, the vapor seal has formed. Reduce heat to low and continue cooking on low until done. This is the waterless part of this new cooking method. Resist that urge to peek: when the cover is removed during the cooking period, heat and moisture are allowed to escape and the vapor seal is broken. This lengthens cooking time. Follow time charts, recipes and general instructions for meats, vegetables, etc. If you cook several vegetables together with no water there will be no interchange of flavor. Each vegetable will be full of its own flavor and valuable nutrients.
How do I use the Greaseless Cooking feature?
You may prepare your foods WITHOUT added oils and fats. Remember, you are cooking on a stainless steel surface. To prepare steaks, preheat the pan on medium to medium-high heat until water droplets "dance" when sprinkled on the pan. Place steaks in the pan. Take care in placing your steaks as they will immediately begin to sear, temporarily sticking to the surface. You should not move them until they are ready to turn. After 4-5 minutes try to lift a corner of your steak, but do not force it as the meat releases itself. When that side is seared, turn and cook to your steak preference.
To sauté onions and garlic, simply use medium-low heat and cover the pan — they sauté in their own moisture...no oil is needed. If olive oil is added, it's added for the flavor so often less is used. Most meats, chicken, chops, and fish have natural fats and oils, so you do not need to add them. Eggs have no natural oil — you need to spray the pan with vegetable cooking spray or use a small amount of butter or margarine.
Waterless-greaseless cooking is a low-temperature method that can be used on any type of stove. Lower heat retains moisture and keeps food from burning. The following are general rules for heat use.
MEDIUM-HIGH HEAT
For heating the pan to brown or sear meat
For re-moisturizing dried foods by steaming over water until the water boils
For pan broiling thick steaks or chops (3/4" or thicker)
MEDIUM HEAT
For pan broiling thin steaks, chops, hamburgers or chicken breasts
For starting fresh fruits and vegetables until vapor seal forms
To start direct top-of-range baking
LOW (OR SIMMERING) HEAT
For cooking roasts after browning
For cooking fresh vegetables and fruits after vapor seal forms
For re-moisturizing dried foods by steaming over water after the water boils
For cooking less tender cuts of meat after browning all sides
For finishing top-of-range baking after pan cover is hot