Recipe_Taco Cups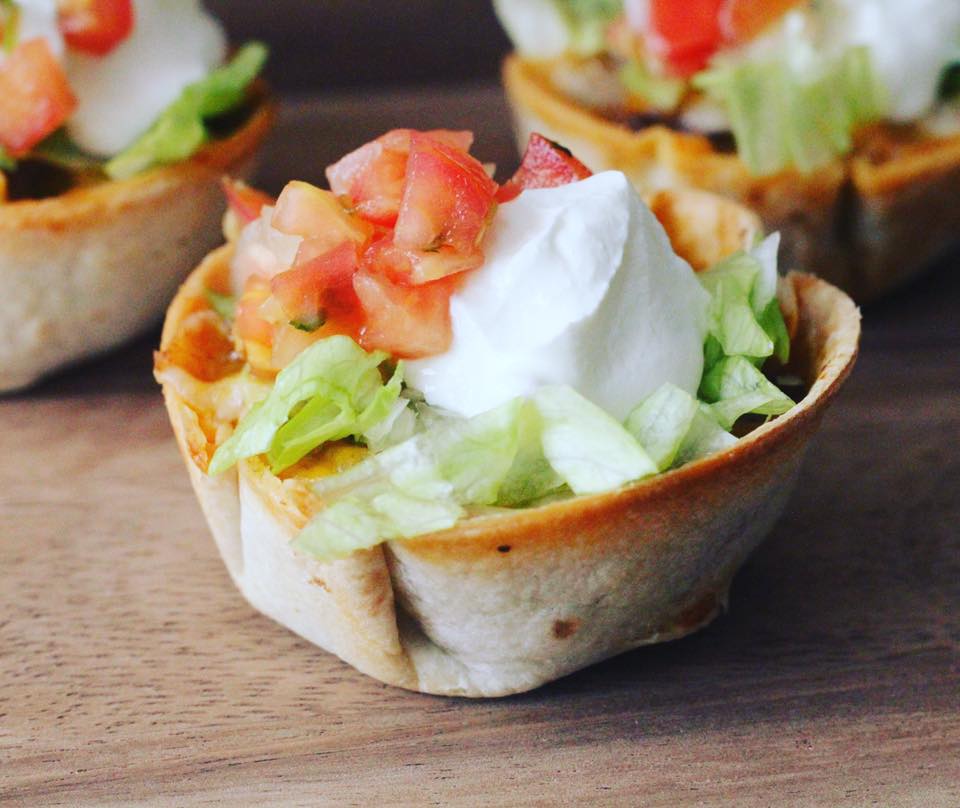 Taco Cups
How cute are these?? Why wait for Taco Tuesday to enjoy these taco cups? A soft tortilla baked up with cheesy, beefy filling. Top with lettuce, onion, sour cream and you have a quick and easy weeknight meal!
Prep time: 15 minutes
Cook Time: 15 minutes
Total Time: 30 Minutes
Serving Size: 12-15 taco cups
Stay up to date. Get fresh recipes and blog updates weekly. Sign up today.
Featured Bakeware:
Ingredients
1 tablespoon chili powder
1/4 teaspoon garlic powder
1/4 teaspoon onion powder
1/4 teaspoon dried oregano
1/2 teaspoon paprika
1 1/2 teaspoon cumin
1 teaspoon sea salt or kosher salt
1 teaspoon black pepper
1/4 teaspoon crushed red pepper- optional , kids might not like the heat of the pepper
1 lb ground meat ( you can use beef, turkey, or chicken)
1/3 cup water
Shredded cheese-whatever kind you like
10" tortillas- burrito size
Toppings- lettuce, salsa, sour cream, cheese, guacamole- whatever you like!
Recipe Instructions
Preheat oven to 350 degrees Brown the meat in a large saucepan. Drain meat if needed. Return meat to pan and add 3 T of the homemade taco seasoning along with 1/3 c water. Or, follow directions on taco seasoning packet if you're using that. Once water is absorbed, turn off heat. Using a 4" round cutter, cut circles out of the tortillas. If you use the 10" ones, you can get 3 per tortilla. You can always use an upside down glass, kitchen shears, or a knife for this task. Once you've cut your tortillas, fit them into your USA Pan muffin pan. Fill each with a sprinkling of the shredded cheese. Then, fill each tortilla with desired amount of meat. Top again with cheese, if desired. Bake for 15-20 minutes until cheese is melted and tortillas are crispy. Cool slightly and then remove from pan. Top with desired toppings.
Featured Products