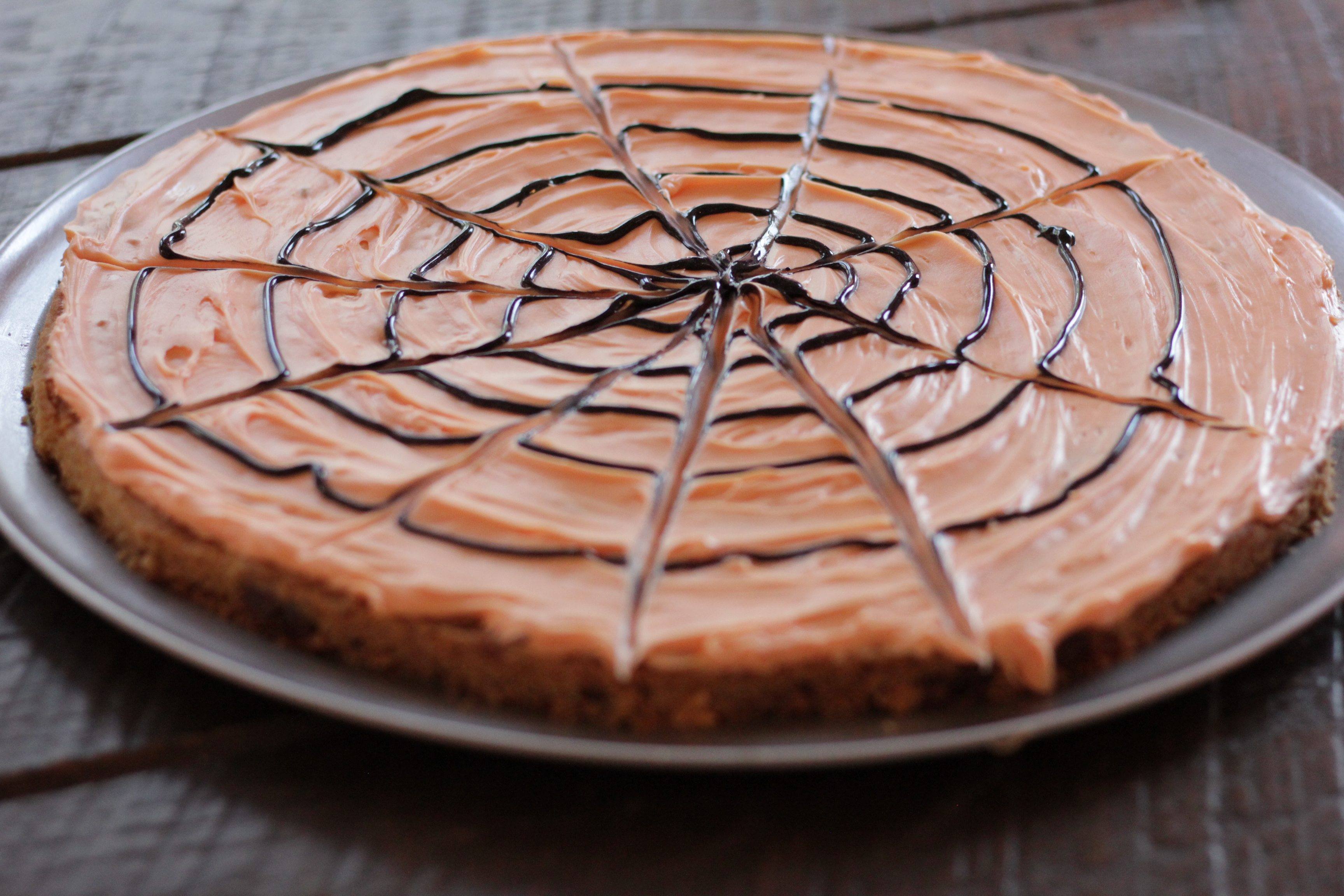 Spider Web Cookie Pizza
What's better than a chocolate chip cookie? How about a giant chocolate chip cookie cake?!? We've gone scary with this one by decorating it with orange colored icing and a spider web top. Baked on our USA Pan 12" pizza pan, this gooey, chocolately cookie is sure to please even your pickiest guest!
Prep Time: 10 minutes
Cook Time: 20- 25 minutes
Total Time: 30- 35 minutes
Serving Size: 1"- 12" cookie cake
Featured Bakeware:
USA Pan 12 Inch Pizza Pan
Ingredients
2 cups all purpose flour
2 teaspoons cornstarch
1 teaspoon baking soda
1/2 teaspoon salt
3/4 cup room temperature butter
3/4 cup packed light brown sugar
1/4 cup granulated sugar
1 egg
2 teaspoons vanilla extract
1 1/4 cup semi-sweet chocolate chips
Recipe Instructions
Preheat oven to 350 degrees. Preheat oven to 350 degrees. In a large bowl, whisk together the flour, cornstarch, baking soda, and salt. Set aside. In a separate bowl, cream together the butter and sugars until well mixed. Add in the egg and mix well. Next, add in the vanilla. With mixer on low, gradually add in the dry ingredients until just incorporated. Stir in the chocolate chips. Place dough on your 12" USA Pan pizza pan. This dough will spread, so leave a good 2-3" border around edge. Bake cookie cake for 20-25 minutes until golden brown and cooked through. Remove to cooling rack to cool completely. Enjoy plain, or use your favorite frosting. We've used a simple vanilla frosting dyed orange for Halloween. Then, we've piped on a spider web design and some small spiders. ENJOY!!