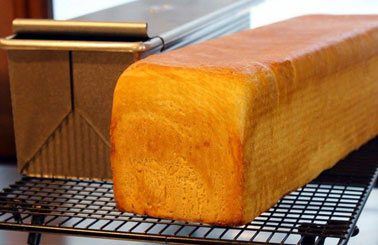 Bouchon Bakery Pullman Loaf
Perfect bread recipe from Chef Barcie Boschee and The Bouchon Bakery cookbook.
Prep time: 2 hours and 15 minutes
Bake Time: 38 minutes
Total Time: 2 hours and 53 minutes
Serving Size: 1 Loaf
Featured Bakeware:
USA Pan ® Large Pullman Loaf Pan
Ingredients
547 g. all-pupose flour
6 g. instant yeast
32 g. sugar
11 g. fine sea salt (scant tsp. table salt)
285 g. water (warm)
35 g. beaten egg
25 g. unsalted butter
79 g. cream cheese
egg wash
Recipe Instructions
In a large mixing bowl, place flour and yeast, use a whisk to combine it; add in the sugar and salt, stir until combined. Rub in butter and cream cheese to the flour mixture until well combined. Make a well in the center and pour in the water and egg; use a sturdy wooden spoon to stir the mixture until it forms a shaggy dough and let it rest for 10 minutes. Transfer dough to a clean work surface and begin to knead ( you can throw/ slap the dough around back and forth on the work surface in between kneading) for at least 15 minutes until the dough is elastic and smooth. The dough will still look a bit tacky at the end. Transfer dough to a lightly-greased large bowl and cover with plastic wrap. Let it rise until it is tripled in size, around an hour. Tip in the dough in the work surface and knead for a few seconds to remove any air bubbles, cover and let it rest for another 5 minutes. Shape into a 13" log and lay it inside your USA Pan Large Pullman Loaf Pan (can also be split into 2 USA Pan Small Pullman Loaf Pans); brush the top with egg wash. Slide the lid onto the Pullman Loaf Pan, leaving space so that you can see the inside; let it proof for 45 minutes, depending on the temperature of your kitchen, or until the dough has nearly reached the top of the Loaf Pan. Meanwhile, preheat oven to 390 degrees (200 degrees C). Close the lid of the Loaf Pan and bake for 28 minutes, carefully remove the lid and bake for another 10 minutes or until the top is a rich golden brown and the loaf is baked through - if not, just put the loaf on your USA Pan Baking Sheet and bake for another few minutes to get the desired golden color. Put loaf on a wire rack and let it completely cool. Enjoy!