Recipe_Valentine Brownies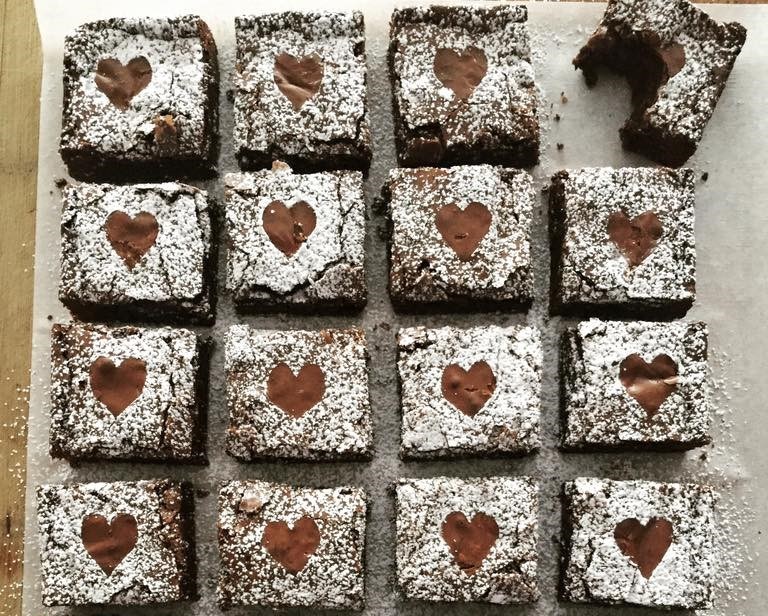 Valentine Brownies
What better way to celebrate this Valentine's Day than with homemade brownies! Add some love into the mix for valentines day by decorating these with heart imprints!
Prep time: 15-20 minutes
Bake Time: 45 minutes
Total Time: 60-65 minutes
Serving Size: 24 brownies
Stay up to date. Get fresh recipes and blog updates weekly. Sign up today.
Featured Bakeware:
USA Pan 9x13" Rectangular Cake Pan
Ingredients
2 sticks unsalted butter
8 ounces bittersweet or semisweet chocolate
4 large eggs
1/2 teaspoon salt
1 cup sugar
1 cup packed dark brown sugar
2 teaspoon vanilla extract
1 teaspoon expresso powder (optional)
1 cup all purpose flour
2 cups semisweet chocolate chips
Recipe Instructions
Preheat oven at 350 degrees. Melt butter and 8 ounces of chocolate over double boiler or in microwave. Careful not to burn!! Whisk eggs together in separate bowl. Add in sugars, salt, vanilla and mix well. Add chocolate/butter mixture and stir. Stir in expresso powder and flour. Stir in chocolate chips. I like to make a parchment "sling" in our USA Pan 13 x 9 pan. Just line w parchment and let ends hang over. This way, once brownies are cool, you can lift entire batch out and cut easily. Bake in oven at 350 degrees for 45 minutes. Cool completely in pan. Once cooled, remove brownies and cut.
Featured Products