Triple Cheese Bread Ring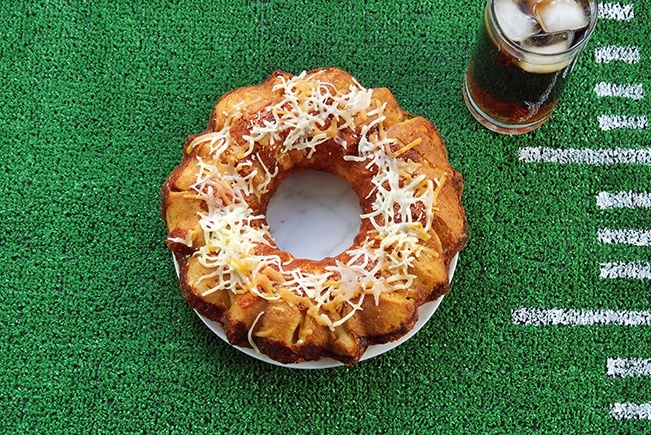 Triple Cheese Bread Ring
Bring a savory dish to your next Superbowl party!
Prep time: 15 minutes
Cook Time: 30-35 minutes
Total Time: 55 minutes
Serving Size: 8 servings
Stay up to date. Get fresh recipes and blog updates weekly. Sign up today.
Featured Bakeware:
Ingredients
1/3 cup melted butter
1/2 tsp. garlic powder
2 1/2 cups of shredded provolone, mozzarella and sharp cheddar cheese
1 can refrigerated biscuits
Recipe Instructions
Preheat oven to 350 degrees Mix together 1/3 cup of melted butter and 3/4 teaspoon of garlic powder in a small bowl. Cut individual biscuits into quarter pieces. Roll half of the biscuit pieces in the butter mixture. Place half of the coated biscuits in the USA Pan Fluted Tube pan. Sprinkle 2 cups of the cheese over dough. Coat the remaining dough pieces in butter mixture and place over cheese. Sprinkle remaining cheese on top. Bake for 30 to 35 minutes or until golden brown and set. Allow to cool for 5 minutes before removing from pan.
Featured Products