Spider cupcakes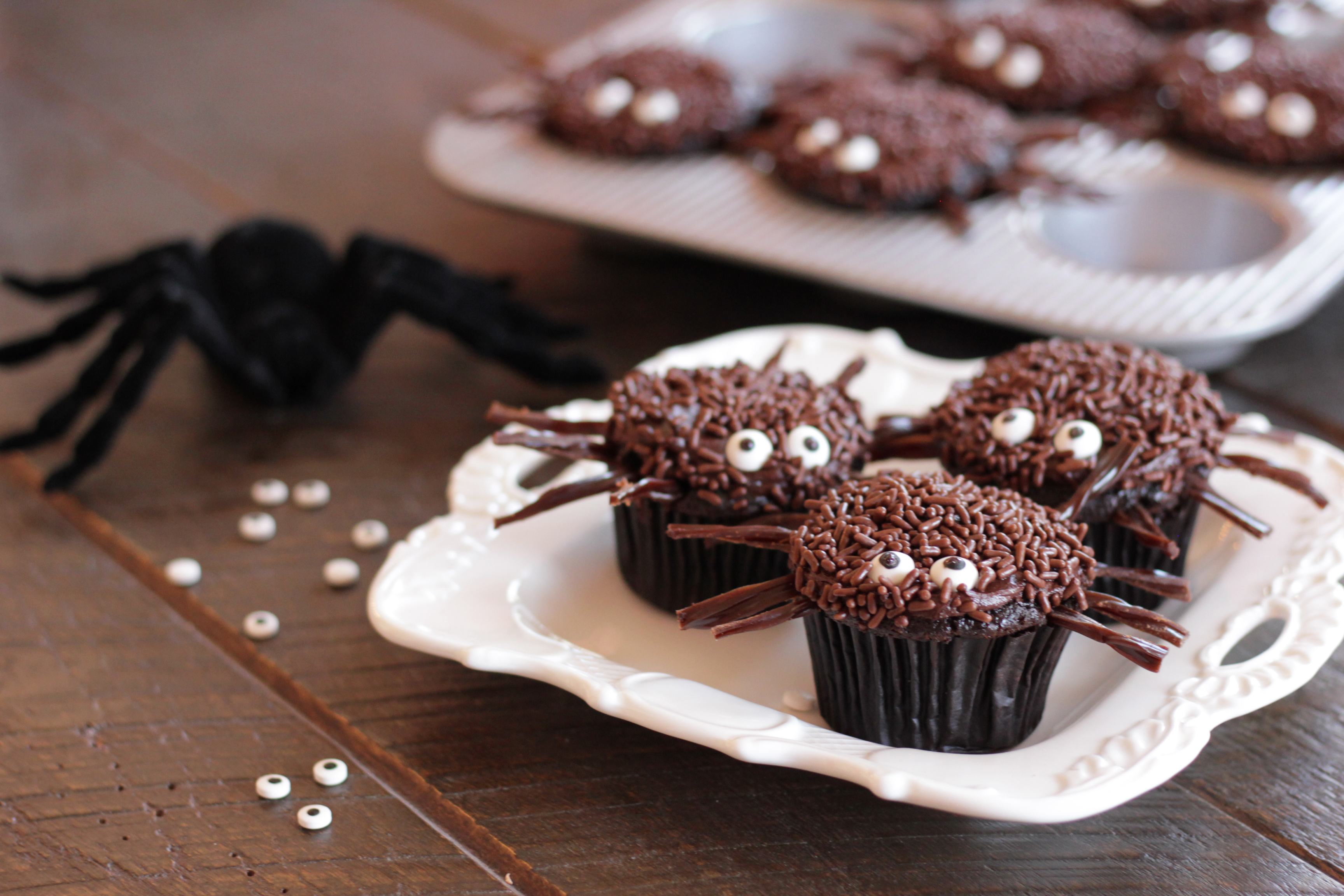 Chocolate Spider Cupcakes
These "spooky" spider cupcakes make a great Halloween treat!! Topped with edible "eyes" and licorice legs, everyone will love these creepy cupcakes! Obviously, you can omit the eyes and legs and still have a super moist flavorful cupcake to enjoy any time of the year!
Prep Time: 10 minutes
Bake Time: 15 minutes
Total Time: 25 minutes
Serving Size: 12 cupcakes
Stay up to date. Get fresh recipes and blog updates weekly. Sign up today.
Featured Bakeware:
USA Pan 12 Cup Cupcake Pan
Ingredients
1 cup all purpose flour
1 cup granulated sugar
1/2 cup cocoa
1 teaspoon baking powder
1/2 teaspoon baking soda
1/2 teaspoon salt
1/2 teaspoon expresso powder (you can omit this if you don't have it, but it does enhance the chocolate flavor)
1/2 cup milk
1/4 cup vegetable oil
1 egg
1/2 teaspoon vanilla extract
1/2 cup boiling water
Frosting Ingredients
1 1/3 cup cocoa powder
1 1/2 cup confectioners sugar
1 teaspoon expresso powder (you can omit if you do not have it, but it adds a great depth of flavor)
1 cup heavy cream
1 cup unsalted softened butter
1/8 teaspoon salt
2 cups confectioners sugar (sifted)
2 teaspoons vanilla
Recipe Instructions
Preheat oven to 350 degrees. Mix the flour, sugar, cocoa, baking powder, baking soda, salt and expresso powder (if using) in the bowl of your mixer or a large bowl. Add in the milk, oil, and vanilla. Mix on medium speed until combined. Once combined, add the boiling water (carefully) and mix on low, gradually increasing speed to high. Mix on high for one minute. Fill the wells of your USA Pan 12 cup cupcake pan 2/3 full with batter. Bake for approximately 15 minutes until done. Remove cupcakes to cooling rack to cool completely. Once cool, remove from pan. Refrigerate cupcakes for about an hour. This helps the frosting go on smoothly without tearing these cupcakes, as they are so moist! Once cupcakes are cool, frost with your favorite chocolate frosting. or use our recipe. Dip tops of cupcakes in chocolate sprinkles and place edible candy eyes in front. Cut chocolate licorice into strips for "spider legs" or use black licorice ropes cut to desired size for the "legs" of your spiders. ENJOY!!
Frosting Instructions
Sift the cocoa powder with the 1 1/3 cups confectioners sugar and expresso powder, if using. Set aside. Place your heavy cream into your small USA Pan saucepan and bring to simmer. Remove from heat and whisk cream into the sugar/cocoa. Whisk until smooth and then set aside to cool to room temp. Once mixture is at room temp, place your butter, salt, and 2 cups sifted confectioners sugar into your mixer and mix until smooth and fluffy. Add in vanilla. Reduce speed to low and gradually add in the sugar/cocoa/cream mixture one spooful at a time. Increase the speed to medium once everythig is incorporated. Use on all your favorite baked goods. Refrigerate any leftovers. ENJOY!!
Featured Products