Red Velvet Mini Cheesecake Brownie Bites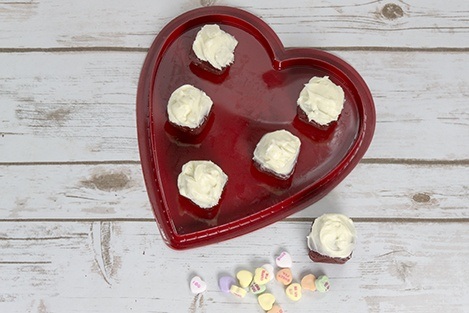 Red Velvet Mini Cheesecake Brownie Bites
Make a sweet treat for your sweetheart!
Prep time: 15 minutes
Cook Time: 15 minutes
Total Time: 35 minutes
Serving Size: 20 servings
Stay up to date. Get fresh recipes and blog updates weekly. Sign up today.
Featured Bakeware:
Ingredients
Red Velvet Cake Mix
FILLING:
1 package cream cheese, softened
3 Tablespoons sugar
1/2 teaspoon vanilla extract
1 large egg yolk
ICING:
1 package cream cheese, softened
4 cups confectioners' sugar
2 teaspoons vanilla extract
Recipe Instructions
Preheat oven to 350 degrees. Mix together red velvet cake mix. Set aside. For cheesecake filling, beat together the cream cheese, 3 tablespoons of sugar, ½ teaspoons of vanilla and 1 large egg yolk with mixer. Set aside. Using a spoon or small ice cream scoop, scoop about 1 teaspoon of the mixed red velvet cake mix into each well of the brownie bite pan. Put about 1 teaspoon of the cheesecake mixture atop the red velvet cake mixture then add an additional 1 teaspoon of the red velvet mixture. Bake the brownie bites for about 15 minutes or until the cheesecake filling is fully baked. Remove the brownie bites from the oven and allow them to cool in the pan for about 5 minutes before removing them.
OPTIONAL: Wait until brownie bites are fully cooled before putting icing on top. For icing beat softened butter and cream cheese until well blended. Then add powdered sugar and vanilla and beat until creamy.
Featured Products