Recipe_Red Velvet Moon Pies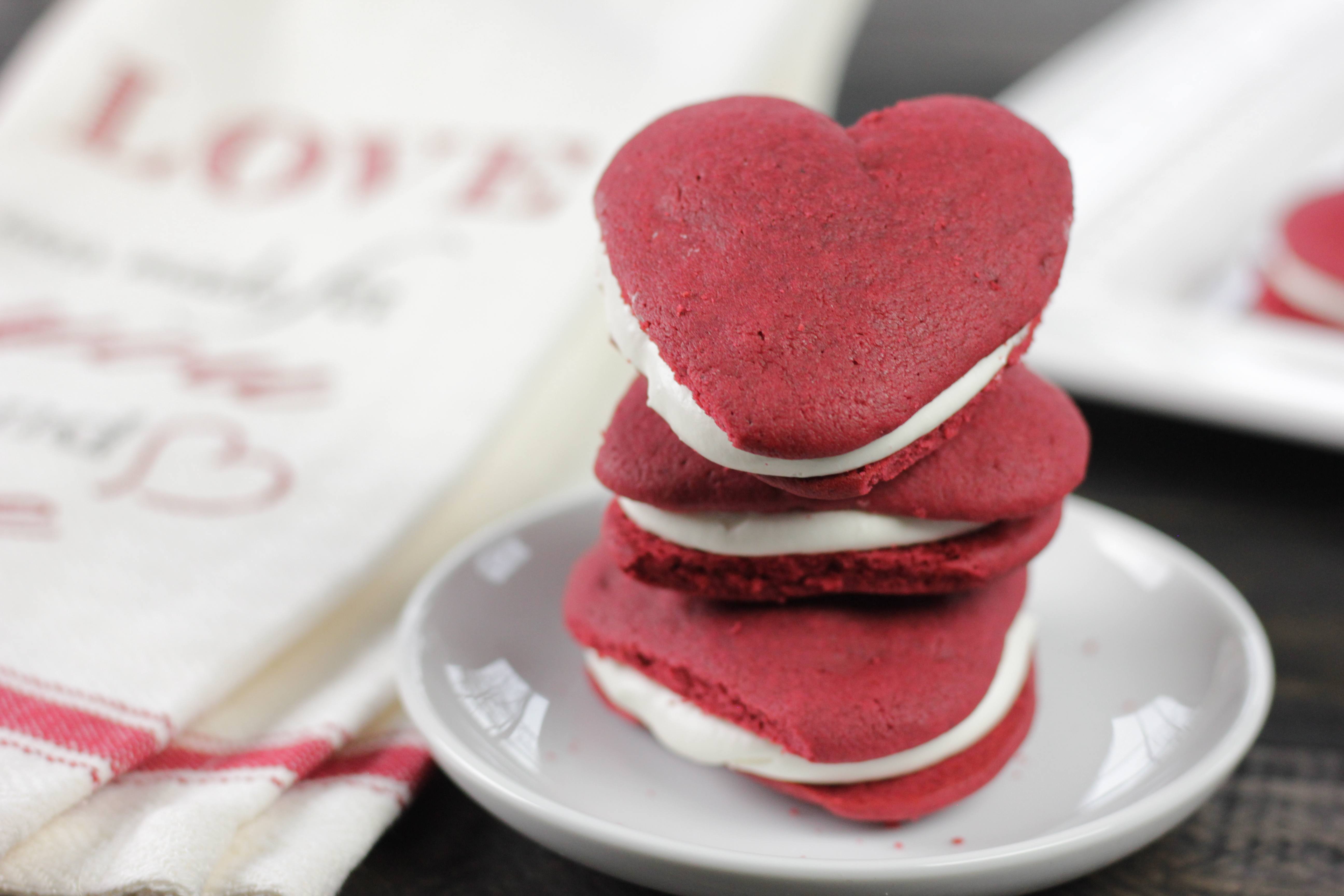 Red Velvet Moon Pies
These red velvet heart shaped whoopie pies are perfect for your sweetie this Valentine's Day. Of course, you don't have to make them heart shaped, as they will be delicious in any shape! Moist red velvet cake like cookies with a sweet marshmallow cream filling. This is definitely one way to show someone you love them!
Prep time: 20 minutes
Bake Time: 7-9 minutes
Total Time: 27-29 minutes
Serving Size: 16-18 pieces, depending on size
Stay up to date. Get fresh recipes and blog updates weekly. Sign up today.
Featured Bakeware:
USA Pan Jelly Roll
Ingredients
Cookies:
2 cups all purpose flour
2 Tablespoons cocoa powder
1/2 teaspoon baking powder
1/4 teaspoon salt
1/2 cup (1 stick) unsalted softened butter
1 cup packed light brown sugar
1 egg
1 teaspoon vanilla extract
1/2 cup buttermilk (room temp)
1 oz red food coloring
Icing:
1 1/2 sticks (12 Tablespoons) softened unsalted butter
1 1/2 cups confectioner's sugar
1 1/2 teaspoons vanilla extract
2 1/2 cups marshmallow fluff
Recipe Instructions
Preheat your oven to 375 degrees. In a large bowl, mix together the flour, cocoa powder, baking powder, and salt. Set aside. In a large mixing bowl, cream together the butter and sugar. After well mixed, add in the egg. Next, add in the vanilla extract. Next, alternate the dry ingredients and buttermilk on low speed until just incorporated. Stir in red food coloring. If a heart shaped cookie is desired, place batter in a piping bag or plastic storage bag and snip the end. Pipe the batter in heart shapes on your USA Pan sheet pan. Or, you can drop the batter by 2 Tablespoons onto your cookie sheet. Size and shape of your batter may affect bake time. Bake for 7-9 minutes, until batter is no longer wet looking and is dry to touch. Remove from oven to cooling rack for a few seconds. Once cooled a bit, remove to cooling rack. In a large bowl, cream the butter for the icing for a few minutes. Add in the confectioner's sugar. Once mixed well, add in the vanilla extract and marshmallow fluff. Once cookies have cooled, use a piping bag or spoon to fill them with the icing on the flat side. Place a second cookie, flat side down on top. ENJOY!!
Featured Products