Recipe_Pumpkin Spice Cake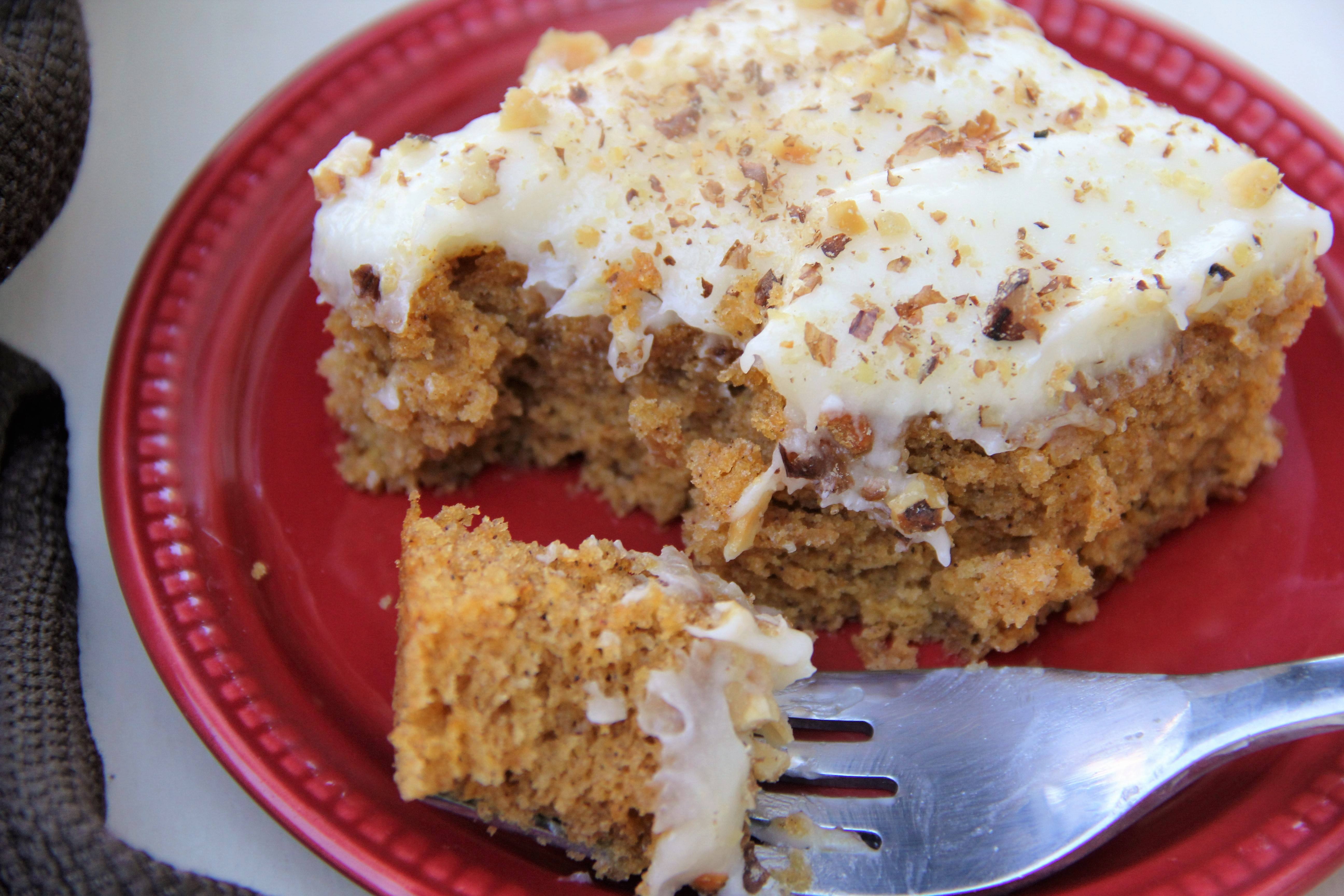 Pumpkin Spice Cake
This perfectly pumkin cake is courtesy of our friends at King Arthur Flour. Topped with a tasty cream cheese frosting, this cake is perfect for your fall get togethers.
Prep Time: 20-30 minutes
Cook Time: 20-25 minutes
Total Time: 55 minutes
Serving Size: 1 9x 13" cake, 12 pieces
Stay up to date. Get fresh recipes and blog updates weekly. Sign up today.
Featured Bakeware:
USA Pan 9x 13" Rectangular Cake Pan
Ingredients
Cake
2/3 cup vegetable oil
2/3 cup brown sugar
1/3 cup granulated sugar
3 eggs
2/3 cup pumpkin puree
3/4 teaspoon baking soda
3/4 teaspoon baking powder
3/8 teaspoon salt
2 teaspoons pumpkin pie spice
1 1/3 cups all purpose flour
Frosting:
8 ounces softened cream cheese
4 tablespoons softened butter
1 teaspoon salt
2 1/2 cups confectioners sugar
1 cup toasted chopped walnuts (optional)
Recipe Directions
Preheat oven to 350 degrees. In a large bowl, mix the oil and sugars together on medium speed. Add in the eggs, one at a time. Then mix in the pumpkin. Stir in the baking soda, baking powder, salt, and spices. Stir in flour until just combined. Pour in your 9 x 13" USA Pan. Bake for 20-25 minutes, until center of cake is done. Remove to cooling rack to cool completely. For frosting, beat together the butter and cream cheese. Add in the maple syrup. Then, mix in the sugar and salt. Frost cake once it is completely cool. To toast walnuts, place on USA Pan quarter sheet pan in 350 degree oven for 7-10 minutes until fragrant. Remove from oven and chop when cool. Top frosted cake with chopped, toasted walnuts (if desired). ENJOY!
Featured Products