Recipe_Pumpkin Cupcakes with Cream Cheese Frosting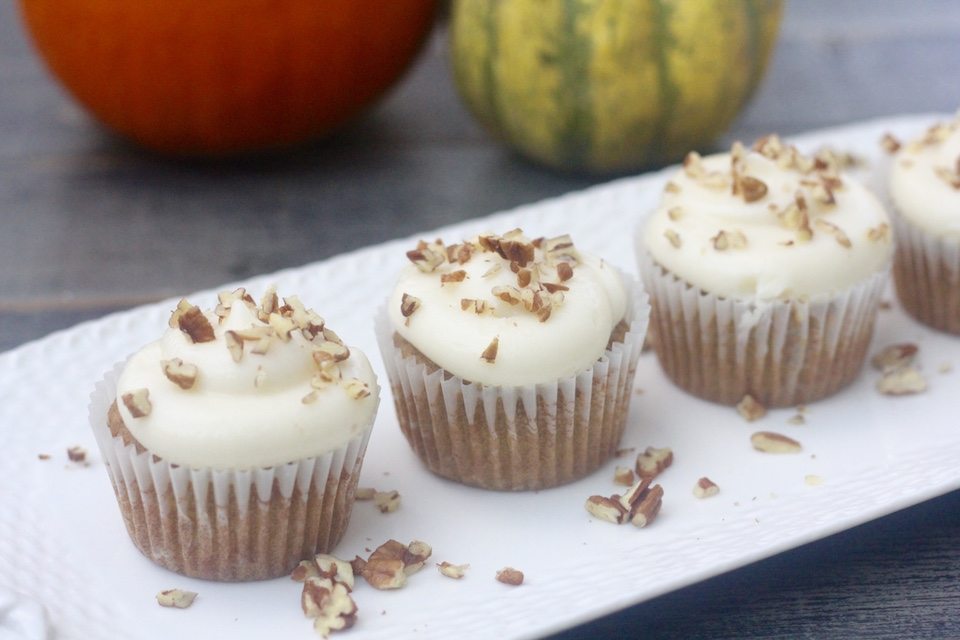 Pumpkin Cupcakes with Cream Cheese Frosting
Yummy pumpkin flavored cake topped with sweet cream cheese icing. Sprinkle a chopped, toasted pecans or walnuts on top to make these extra special!
Prep time: 20 minutes
Cook Time: 20 minutes
Total Time: 40 minutes
Serving Size: 12 cupcakes
Stay up to date. Get fresh recipes and blog updates weekly. Sign up today.
Featured Bakeware:
USA Pan 12 Cup Cupcake Pan
Ingredients
Cupcakes:
1 stick (1/2 cup) unsalted butter, softened
1/2 cup granulated sugar
1/2 cup pumpkin puree
1 1/2 teaspoon vanilla extract
2 eggs
1 cup flour
1 teaspoon cinnamon
1/2 teaspoon allspice
1/2 teaspoon ground nutmeg
1/2 teaspoon baking powder
1/2 teaspoon baking soda
1/4 teaspoon salt

Icing:
2 cups sifted confectioner's sugar
2 Tablespoons maple syrup
2 Tablespoons softened butter
8 ounces (1 block) softened cream cheese
Recipe Instructions
For cupcakes, preheat oven to 350 degrees. Line your 12 cup USA Pan cupcake pan with liners. Whisk together all dry ingredients for cupcakes and set aside. In a mixing bowl, cream together the butter and sugar. Add the pumpkin puree and vanilla extract. Once combined, add in the eggs. Once mixed, gradually incorporate the dry ingredients until just mixed. Fill the cupcake wells 3/4 full with the batter. Bake for 20 min, until done. Cool cupcakes completely. For icing, cream together the cream cheese and confectioner's sugar. Add in the butter and maple syrup. Once cupcakes are cool, frost them with the icing. Add toasted chopped walnuts or pecans.
Featured Products