Recipe_Pumpkin Cheesecake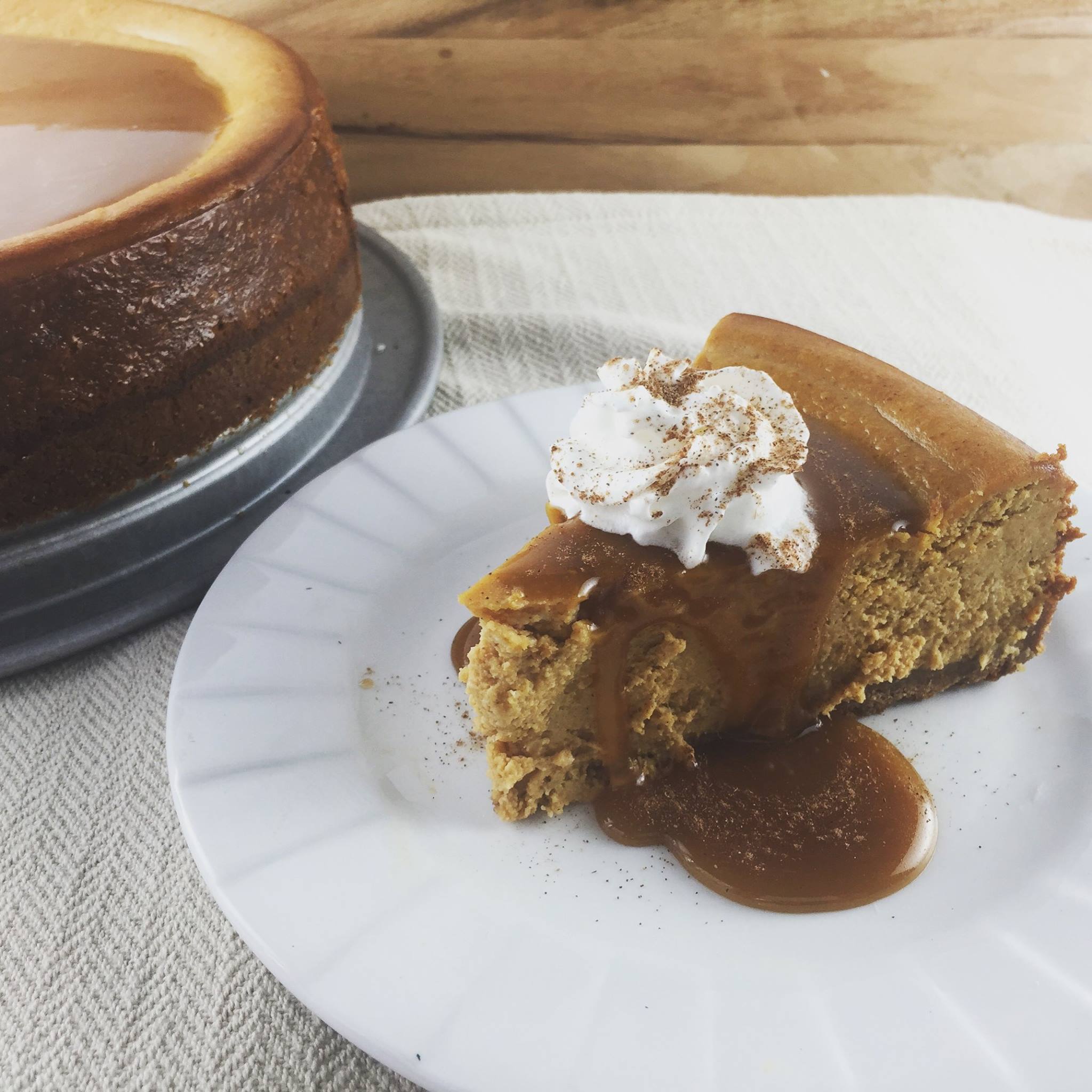 Pumpkin Cheesecake with Caramel Sauce
A fall twist on a classic dessert. Cheesecake meets pumpkin in this amazing dessert. You might want to consider swapping out your pumpkin pie for this one!
Prep time: 20 minutes
Bake Time: 1 hour 8 minutes
Total Time: 4 hours and 45 minutes
Serving Size: 12-16 servings
Stay up to date. Get fresh recipes and blog updates weekly. Sign up today.
Featured Bakeware:
Ingredients
Crust: 1 1/2 cups graham cracker crumbs ( use about 12 whole graham crackers; I pulsed mine in food processor)
6 tablespoons melted butter
1 tablespoons sugar
1/2 teaspoon cinnamon
Filling: 3- 8 oz packages softened cream cheese
1 1/2 cups brown sugar
1 can pumpkin (not pumpkin pie filling)
4 large eggs
1/4 cup sour cream
2 tablespoons flour
2 teaspoon pumpkin pie spice
1/4 teaspoon salt
1 tablespoon vanilla
Recipe Instructions
Preheat oven to 350 degrees. Mix all ingredients and press into bottom and about 1/2"-1" up the sides of your USA Pan springform pan. Bake the crust at 350 degrees for about 8 minutes. Mix the cream cheese and brown sugar thoroughly until no lumps remain. In a separate large bowl, stir together the pumpkin, eggs, sour cream, flour, pumpkin pie spice, salt, and vanilla until combined. Add to the egg/sugar mixture and mix until just combined. Note: over mixing can cause cheesecake to crack when baking Pour mixture into the graham cracker crust. Bake for 1 hour at 350 degrees. After the hour is up, crack the over door very slightly and allow the cheesecake to sit in the oven for another 45 minutes. After the 45 minutes are up, take cheesecake out and cool to room temp. Cover and refrigerate for at least 4 hours or preferably overnight. Caramel Sauce: Mix in a saucepan over medium-low to medium heat: 1 cup brown sugar 4 tablespoons butter 1/2 cyp half and half or cream 1 tablespoon vanilla pinch of salt Whisk the mixture for about 5-7 minutes. The mixture should thicken, however, if it remains thin, cook a bit longer. I was able to remove the cheesecake from our springform pan without running a knife around it! You can either slice and spoon caramel over each individual slice, or pour caramel over entire cheesecake. You can also put a dollop of whipped cream on it and sprinkle with additional pumpkin pie spice!
Featured Products