Pepperoni Roll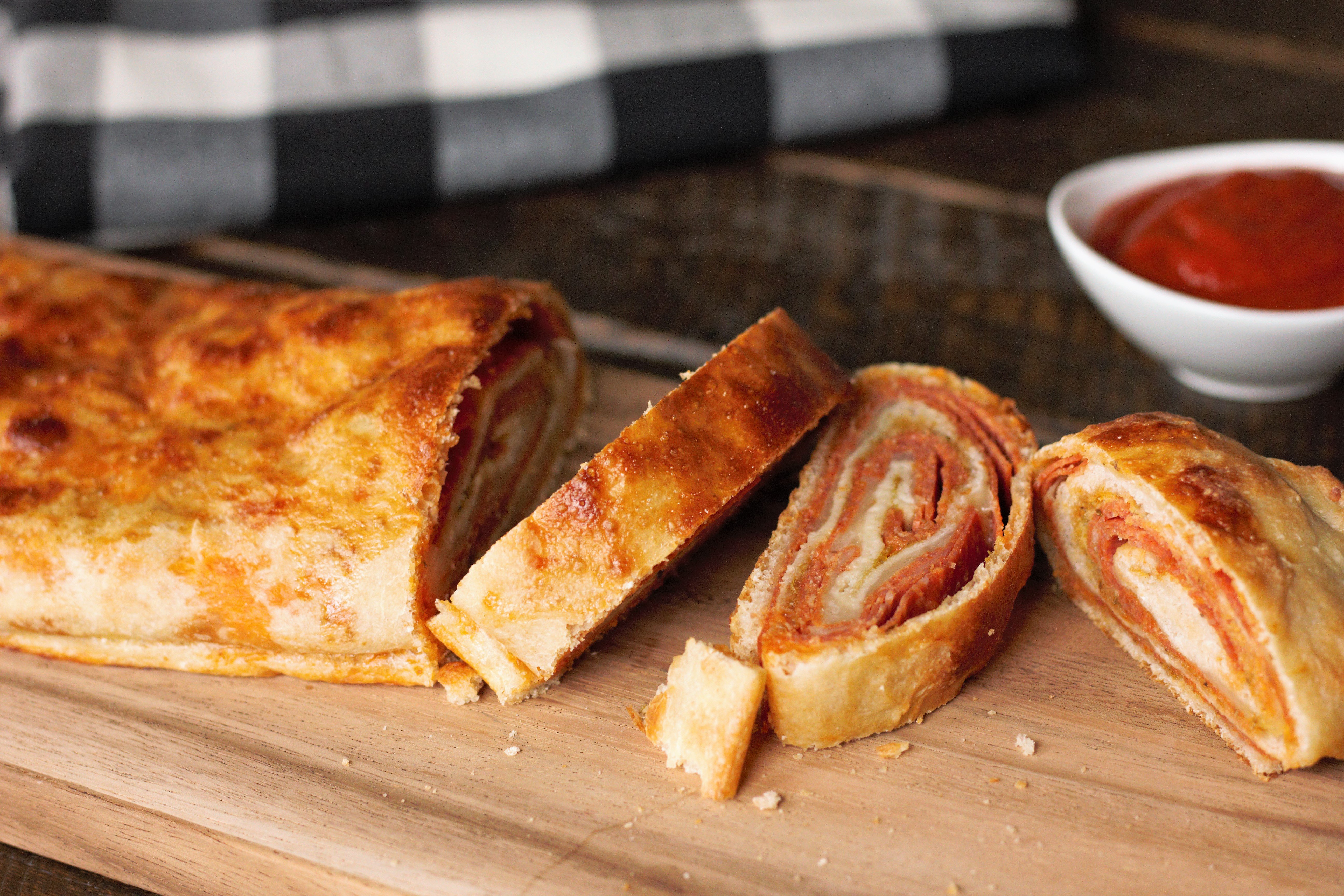 Pepperoni Roll
This pepperoni roll is so delicious, no one will know you took some help by using refrigerated pizza dough! Filled with loads of pepperoni, cheese, and seasonings, this is the perfect snack or party food!
Prep time: 15 minutes
Bake Time: 20-25 minutes
Total Time: 35-40 minutes
Serving Size: One pepperoni roll, 8- 10 servings depending on how thick you slice it
Stay up to date. Get fresh recipes and blog updates weekly. Sign up today.
Featured Bakeware:
Ingredients
1 refrigerated pizza crust (classic, not thin, found in the cans)
2 eggs
1 tablespoon Parmesan cheese
1 teaspoon oregano
1 teaspoon parsley flakes
1/2 teaspoon garlic powder
1/4 teaspoon pepper
2 Tablespoons vegetable oil
1/2 pound sliced pepperoni
1/2 pound mozzarella cheese

Recipe Instructions
Preheat your oven to 350 degrees. Separate your egg yolks from your egg whites. Set the egg whites aside to use later. In the bowl with the yolks, add your Parmesan cheese, oregano, parsley, garlic, pepper, and oil. Set aside. Open your pizza crust and roll out in front of you. It should be in the shape of a rectangle. Spread the seasoning mixture all over the top. Next, layer the pepperoni all over the top of the seasoning. Finally, sprinkle all the cheese on top. Take the crust and roll it up as firmly, like a jelly roll. Be sure to pinch the seam and ends to seal. Place the roll, seam side down on your USA Pan half sheet pan. Take the egg whites and mix them up. Brush on top of the pizza dough. Bake for about 20-25 minutes until golden brown on top. Remove from oven and cool slightly. Slice and serve. ENJOY!!
Featured Products