Patriot Loaf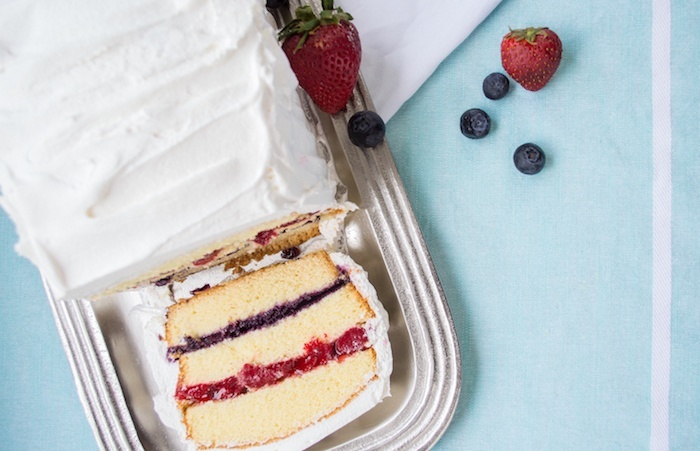 Patriot Loaf
A beautiful crowd pleaser!
Prep time: 10 minutes +chilling time
Cook Time: 90 minutes
Total Time: 3 hours
Serving Size: 8
Stay up to date. Get fresh recipes and blog updates weekly. Sign up today.
Featured Bakeware:
Ingredients
Pound Cake:
2/3 cup butter, softened
1 1/4 cups sugar
2/3 cup milk
1 tsp vanilla extract
2 cups flour
1 tsp salt
1/2 tsp baking powder
3 eggs
Topping:
1/2 cup blueberry pie filling
1/2 cup strawberry or raspberry pie filling
1-3/4 cups whipped topping

Recipe Instructions
Preheat oven to 300 degrees. In a large bowl, mix butter and sugar till light and fluffy. Blend in milk and extract. Sift dry ingredients together and add. Beat till smooth. Add eggs one at a time, beating well after each addition. Pour into loaf pan. Bake for about 90 minutes or until a toothpick comes out clean. Cool for 20 minutes. After the pound cake is cooled, Cut cake horizontally into three layers. Place bottom layer on a serving platter; spread with blueberry filling. Top with middle cake layer; spread with strawberry filling. replace top of cake. Frost top and sides with whipped topping. Refrigerate for several hours before slicing.
Featured Products