Recipe_Mini Pineapple Upside Down Cake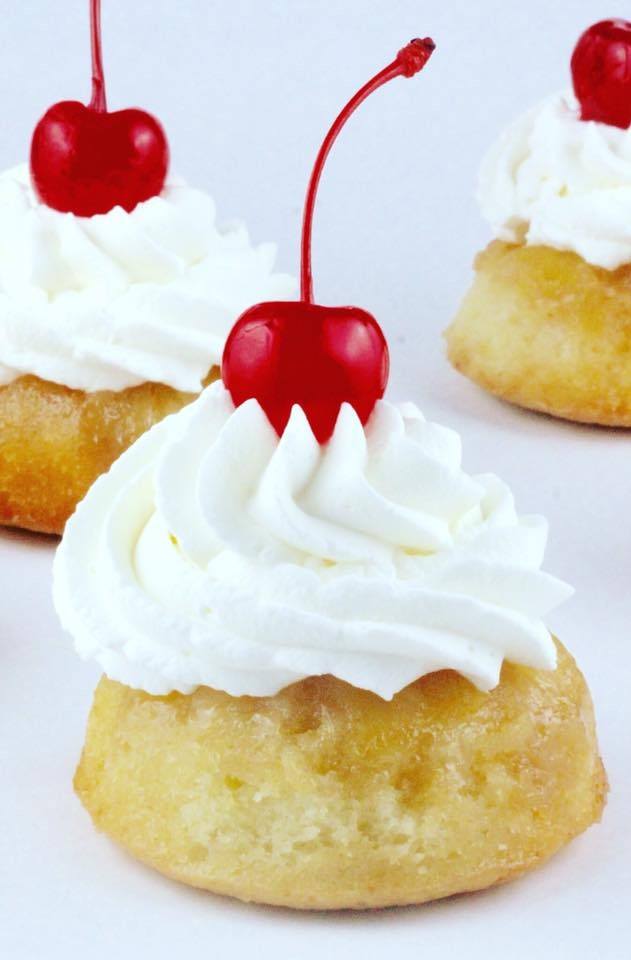 Mini Pineapple Upside Down Cakes
We love our mini fluted cupcake pan! Make your next party special by making these adorable, individual cakes! A lovely moist pineapple cake topped with whipped cream and a cherry! You can use this pan to make individual cakes of any of your favorite cake! Just remember to adjust bake time!
Prep time: 15 minutes
Cook Time: 25 minutes
Total Time: 40 Minutes
Serving Size: 12 mini cakes
Stay up to date. Get fresh recipes and blog updates weekly. Sign up today.
Featured Bakeware:
USA Pan Mini Fluted Cupcake Pan
Ingredients
1- 20 oz can pineapple chunks drained, juice reserved (you could also use crushed pineapple- drained, or even pineapple rings)
1/3 cup melted butter
1/3 cup packed light brown sugar
1 cup all purpose flour
3/4 cup granulated sugar
1/2 teaspoon baking powder
1/4 teaspoon salt
1/4 cup unsalted softened butter
1/2 cup pineapple juice- reserved from can of pineapple
1 large egg
1/2 teaspoon vanilla extract
TOPPING: Whipped cream
Maraschino cherries
Recipe Instructions
Preheat oven to 350 degrees Mix together brown sugar and melted butter. Pour 1-2 t of melted butter mixture into bottom of each cup of USA Pan mini fluted cupcake pan. Drain pineapple well, reserve juice. Place pineapple in several layers of paper towels to drain well. Add a few pieces of pineapple chunks on top of brown sugar mixture. In a large mixing bowl, whisk the flour, granulated sugar, baking powder, and salt. Add butter and pineapple juice and mix well on medium. Add egg and mix well. Add vanilla and mix until combined. Distribute batter evenly between the 12 cups. Bake for 23-26 minutes until cakes are cooked through. Remove pan to cooling rack for 5 minutes. Invert pan into cooling rack so cakes can cool completely. Before serving, top each with whipped cream and cherry.
Featured Products