Recipe_Lemon Rosemary Chicken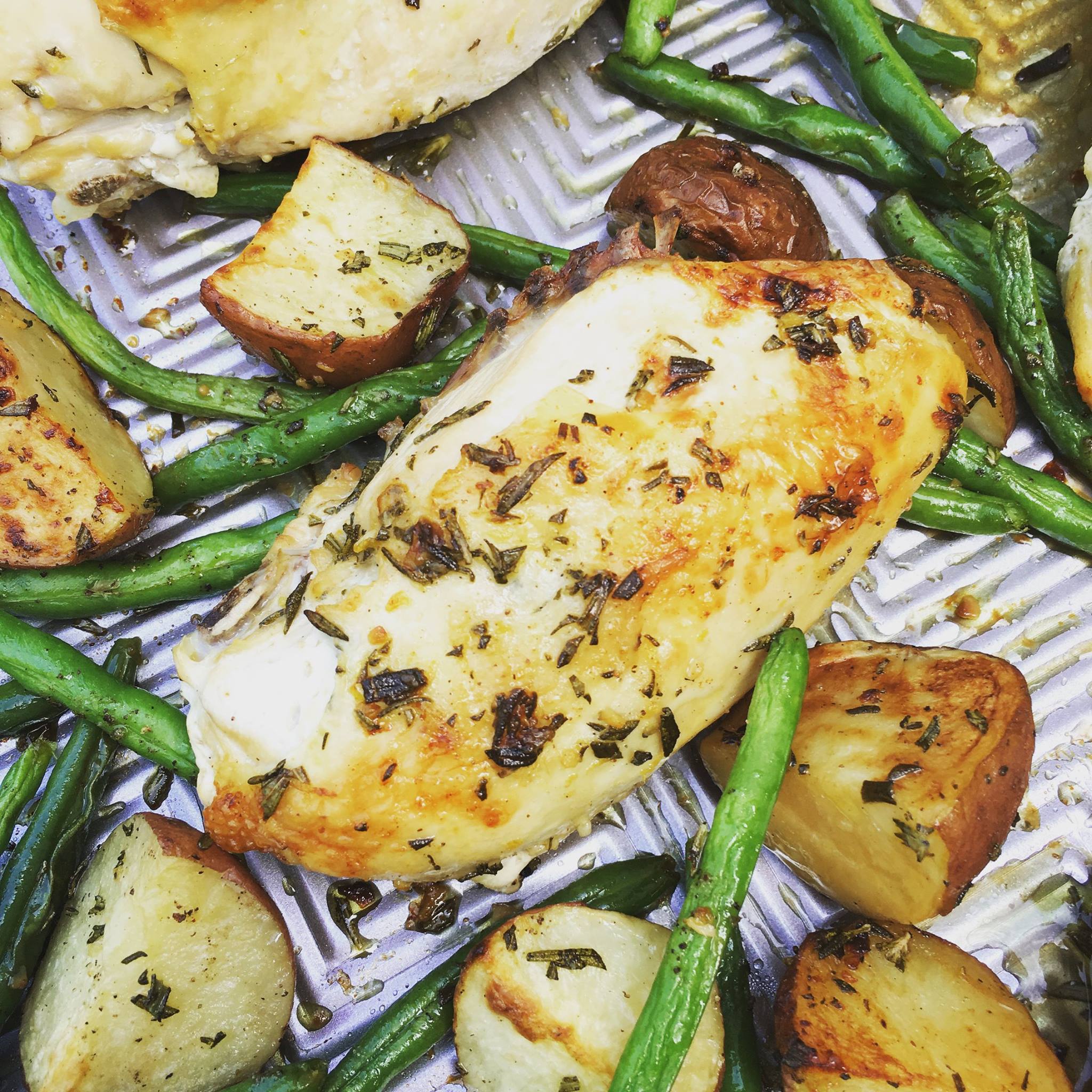 Lemon-Rosemary Chicken
A complete meal, all made in one pan, our USA Pan sheet pan. This pan is a must have for any kitchen! Lemon-rosemary chicken paired wiith green beans and potatoes is such an easy way to get a full meal on the table in no time!
Prep time: 15 minutes
Cook Time: 30 minutes
Total Time: 45 minutes
Serving Size: 4 servings
Stay up to date. Get fresh recipes and blog updates weekly. Sign up today.
Featured Bakeware:
Ingredients
4 bone in chicken breasts
3 tablespoons butter (divided)
1 1/2 teaspoons salt (divided)
1/2 teaspoon pepper
4 teaspoons minced garlic (divided)
2 tablespoons chopped rosemary
1 teaspoon lemon zest
3 tablespoon olive oil (divided)
1 pound red potatoes (quartered)
1/2 pound green beans
Recipe Instructions
Preheat oven to 450 degrees. You can line your USA Pan half sheet pan with foil or parchment if you want an easier clean up. Melt the butter and mix in the lemon zest, 1 tablespoon rosemary, 1 teaspoon salt, pepper, and 2 teaspoons garlic. Rub on top of the chicken breast and underneath the skins. Place chicken breasts on one side of your USA Pan sheet pan. Mix cut potatoes, 2 tablespoons olive oil, 2 teaspoons garlic, 1 tablespoon rosemary, and 1/4 teaspoon salt together. Place this on the other side of your sheet pan. Bake for 20 minutes. Then, toss the green beans with 1 tablespoon olive oil and 1/4 teaspoon salt and mix them in with the potatoes. Bake an additional 10 minutes. Your cook time will depend a lot on your chicken. It all depends on the size of your chicken. If your juices do not yet run clear after 30 min of baking, remove the potatoes and beans and cook chicken until done. Also, you can also tent some foil over the chicken if it browns too much for your liking. If chicken is done after 20 minutes, remove and continue to cook potatoes and beans until tender.
Featured Products