Recipe_Ginger Spice Cookies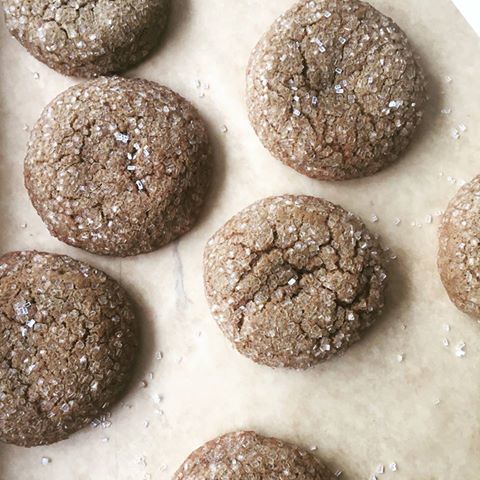 Ginger Spice Cookies
A chewy, slightly spicy cookie with a hint of crunch from the sparkling sugar. These ginger spice cookies are a must try! So pretty with the sugar on top, and definitely so delicious!
Prep Time: 10 minutes
Bake Time: 10 minutes
Total Time: 20 minutes
Serving Size: 36 cookies
Stay up to date. Get fresh recipes and blog updates weekly. Sign up today.
Featured Bakeware:
USA Pan Large Cookie Sheet (17" x 12 1/4")
Ingredients
2 sticks butter softened to room temp
1 cup sugar
1/2 cup molasses
2 1/4 teaspoons baking soda
1 1/4 teaspoons cloves
1 1/4 teaspoons cinnamon
1 teaspoon ground ginger
2 eggs
3 1/2 cups flour
sparkling sugar (for rolling)
Recipe Instructions
In your mixing bowl, cream the butter and sugar. Next, mix in the molasses, baking soda, cloves, cinnamon and ginger. Then, mix in the eggs. Stir in the flour on low speed. Roll tablespoon size dough into balls and roll the balls in the sparkling sugar. You can also use granulated sugar, but we like the look and crunch of the sparkling sugar. Place 2 1/2 " apart on your USA Pan cookie sheets. Bake in preheated 350 degree oven for 10 minutes. Cool them for about 10 minutes on cookie sheets and then transfer to cooling rack to cool completely.
Featured Products