Recipe_cream Puffs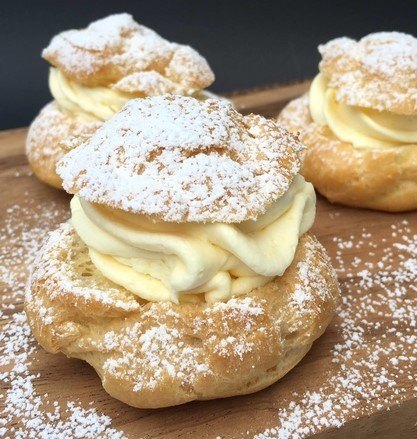 Cream Puffs
These light and airy cream puffs feature a vanilla custard filling sandwiched between a light and flaky pastry. This dessert is sure to impress, but is deceptively easy!
Prep Time: 25 minutes
Cook Time: 25- 30 minutes
Total Time: 50 minutes
Serving Size: 15-20 cream puffs
Stay up to date. Get fresh recipes and blog updates weekly. Sign up today.
Featured Bakeware:
Ingredients
1 stick butter
1 cup water
1 tsp vanilla extract
4 eggs
1 cup flour
Cream Puff Filling:
2 cup heavy cream
1- 3.4 oz package of instant vanilla pudding
1/3 cup milk

Recipe Instructions
Preheat oven to 400 degrees. Bring the butter, water, and vanilla to a boil. Add in the flour and stir constantly until it leaves the side of the pan and forms a ball. Remove from heat and cool. Place into mixing bowl and add in the eggs, one at a time, until smooth. Drop the batter by tablespoons on to your USA Pan cookie sheet or half sheet pan. Bake for 25-30 min. Remove to cooling rack and allow to cool completely. To make filling, combine all filling ingredients and mix well with a mixer, until it comes to desired consistency. Remove the tops of the cream puffs with a knife and place filling onto bottom of cream puff. Place top on and sprinkle with powdered sugar. You can also drizzle with chocolate. You can store thefilling in the refrigerator and fill cream puffs as needed.
Featured Products