Recipe_Cornbread Muffins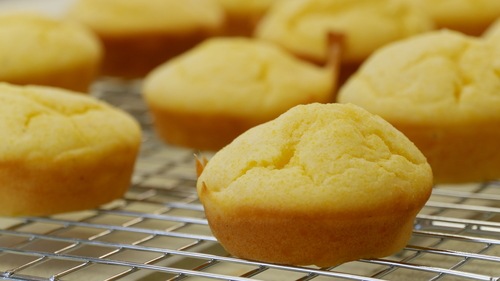 Cornbread Muffins
Prep time: 10 - 15 minutes
Cook Time: 22 - 24 minutes
Total Time: 2 hours 32 Minutes - 12 hours 39 minutes
Serving Size: 12 muffins
Stay up to date. Get fresh recipes and blog updates weekly. Sign up today.
Featured Bakeware:
USA Pan 12 Cup Muffin Pan
Ingredients
1 3/4 cups multi-purpose flour
1 cup yellow cornmeal, whole grain preferred
2 to 2 1/4 cups buttermilk or heavy cream
1/2 cup (8 tablespoons) soft butter
3 tablespoons honey
1 large egg
2 teaspoons baking powder
1/4 teaspoon baking soda
1/2 teaspoon salt
Recipe Instructions
Combine the gluten-free flour and cornmeal in a large mixing bowl. Pour the buttermilk or gream into the bowl, and stir to evenly moisten the flours. Cover and let sit for 2 to 3 hours, or in the refrigerator overnight. When you;re ready to bake, preheat the oven to 375 degrees. Add the butter, honey, egg, baking powder, baking soda, and salt to the moistened flours and beat at a high spped for 1 to 2 minutes. This isn't like a wheat-flour muffin, where you have to worry about them getting tough: the beating helps to develop the structure of these muffins. Scoop the batter, into the walls of the USA Pan 12 Cup Muffin Pan, and bake the muffins for 22 to 24 minutes, until they appear to set; a tookpick inserted into the center of one of the muffins in the middle of the pan should come out clean. Remove the muffins from the oven and put the pan on a rack; transfer the muffins from the pan to a cooling rack after 5 minutes, so they don't steam. Serve warm.
Featured Products