Recipe_Cherry Split-Second Cookies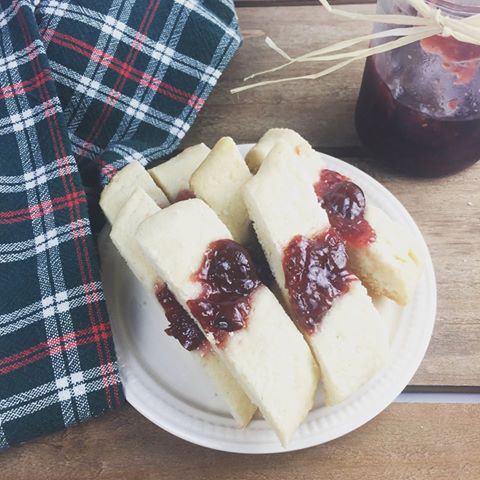 Cherry Split-Second Cookies
We've filled these cookies with cherry filling, but you could use whatever flavor you like! Delicious cookie logs filled with flavorful jam/jelly and sliced diagonally for a pretty presentation, these cookies are sure to impress!
Prep Time: 12 minutes
Bake Time: 15-20 minutes
Total Time: 27-32 minutes
Serving Size: About 5 dozen cookies
Stay up to date. Get fresh recipes and blog updates weekly. Sign up today.
Featured Bakeware:
USA Pan Large Cookie Sheet (17" x 12 1/4")
Ingredients
2/3 cup sugar
3/4 cup butter softened to room temp
1 egg
1 teaspoon vanilla
2 cups flour
1/2 teaspoon baking powder
1/2 teaspoon salt
jam of your choice
Recipe Instructions
Cream butter and sugar together. Add egg and vanilla and mix well. In a separate bowl, combine flour, baking powder, and salt. Gradually add to sugar mixture on low until incorporated. Divide dough into 4 equal portions. Shape each portion into a log (approximately 6-7 inches x 3-4 inches wide). Made a well down the center of each log. Fill the well with jam. We used cherry here, but apricot or raspberry would also be delicious! Place logs onto your USA Pan cookie sheets, about 4 inches apart. Bake in a preheated 350 degree oven for 15-20 minutes, until very lightly browned. Cool about 2 minutes on cookie sheets and then transfer to cooling rack to cool completely. Cut diagonally into desired size.
Featured Products