Recipe_Banana Split Cheesecake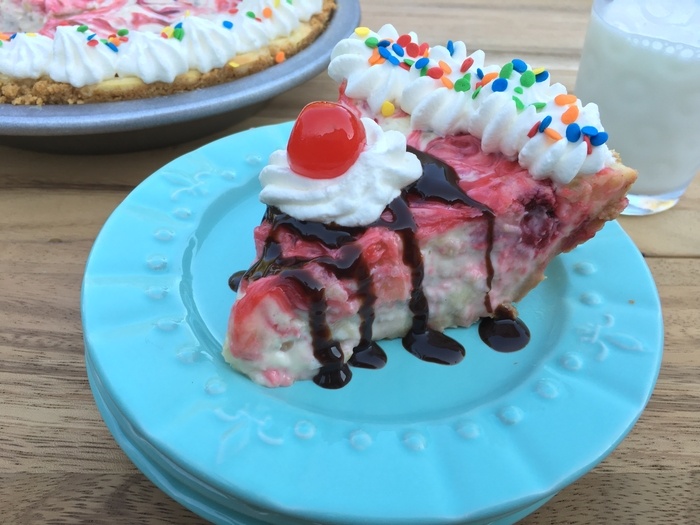 Banana Split Cheesecake
Prep time: 2 hours 15 minutes
Cook Time: 40 minutes
Total Time: 2 hours 55 Minutes
Serving Size: 8 Servings
Stay up to date. Get fresh recipes and blog updates weekly. Sign up today.
Featured Bakeware:
USA Pan Pie Pan
Ingredients
1 prepared chocolate cookie crust
2 (8 oz) packages cream cheese, softened to room temperature
2/3 cup sugar
coconut
2 eggs
1/4 cup sour cream
2 bananas, very ripe and mashed
1 (8 oz) can crushed pineapple, drained
1 cup strawberry fruit topping/pie filling
Fresh whipped cream, sprinkles, chocoalte sauce, and cherries for garnish
Recipe Instructions
Preheat oven to 325 degrees. Place the prepared cookie crust into the USA Pan Pie Pan. Set aside. In the bowl of a stand mixer, cream together the cream cheese, sugar, and banana extract until smooth, about 1 minute. Add in the eggs, one at a time, beating well after each addition. Add in the sour cream and mashed bananas and beat well for about 30 seconds or until combined. Fold in the crushed pineapple. Pour the cheesecake mixture into the prepared crust and smooth out the top. Dollop heaping piles of strawberry pie filling over the surface of the cheesecake. Swirl the pie filling into the cheesecake lightly with a butter knife. Bake for approximately 35-40 minutes or until the cheesecake is just about set. The middle may wiggle a little bit still, but it should not slosh around. Cool completely, then refrigerate for at least 2 hours to set. Just before serving, pipe on fresh whipped cream and top with sprinkles. Drizzle each slice with chocolate syrup and garnish with a cherry before serving.
Featured Products