Recipes_Apple bread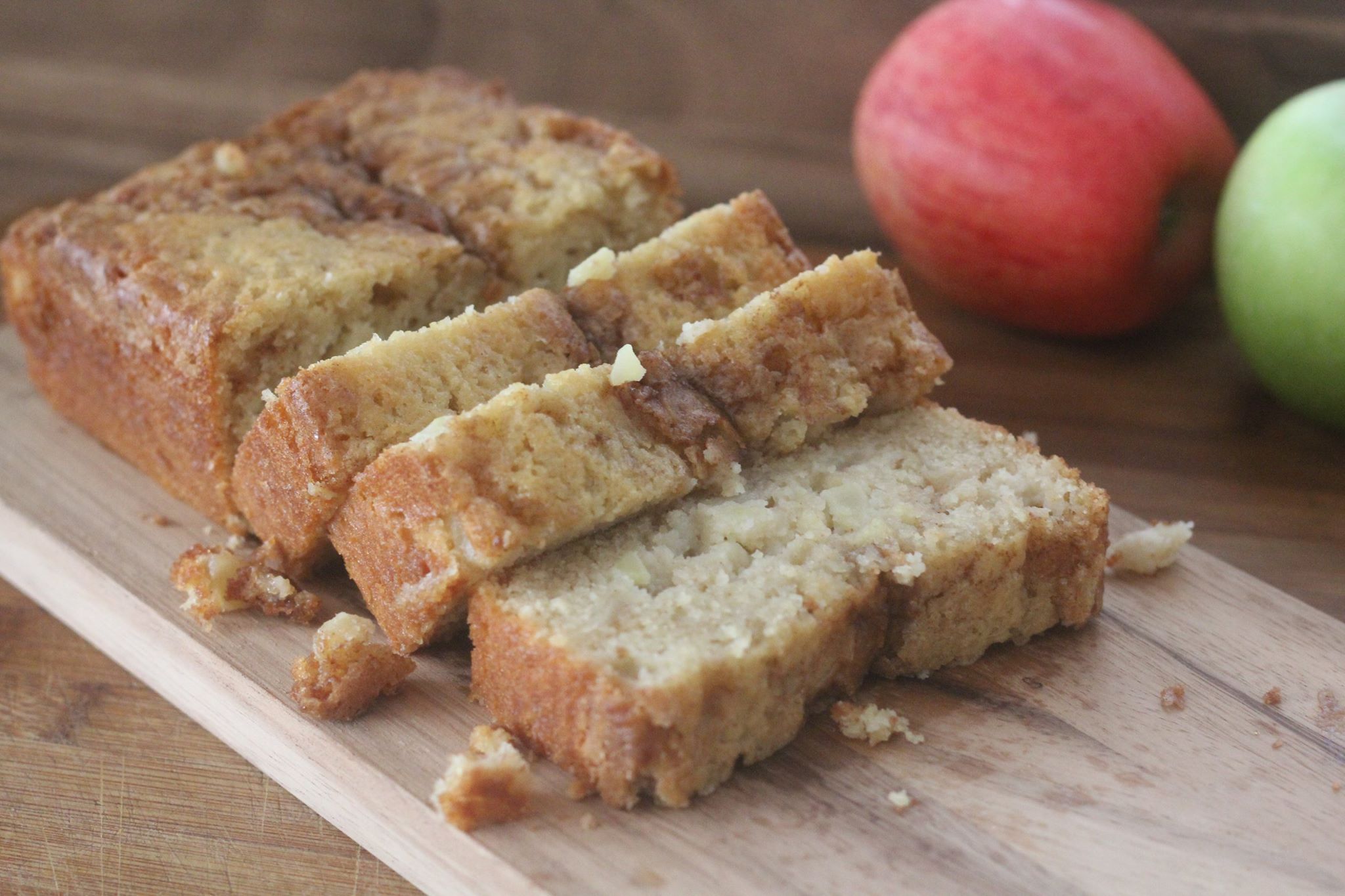 Apple Bread
This apple bread will be the perfect addition to your morning coffee. Sweet, fresh apples baked with brown sugar and cinnamon. This bread has all the flavors of a great fall snack.
Prep time: 10 minutes
Cook Time: 45- 50 minutes
Total Time: 1 Hour
Serving Size: 1 loaf
Stay up to date. Get fresh recipes and blog updates weekly. Sign up today.
Featured Bakeware:
Ingredients
2/3 cup brown sugar (divided)
1/2 teaspoon ground cinnamon
1/3 cup granulated sugar
1/4 cup room temperature butter
1/4 cup unsweetened applesauce
2 eggs (beaten)
1 teaspoon vanilla extract
1 1/2 cups all purpose flour
2 teaspoons baking powder
1/3 cup milk
2 cups peeled and chopped honey crisp apples
2 tablespoons melted butter
Recipe Instructions
Preheat oven to 350 degrees. Combine 1/3 cup of the brown sugar with the cinnamon and set aside. Cream together the butter, the remaining 1/3 cup of brown sugar, and the granulated sugar on medium speed. Mix in the applesauce, vanilla, and eggs. Sift the flour and baking powder together and gradually add to butter mixture, alternating with the milk. Pour half the batter into your USA Pan 81/2 x 4 1/2 " loaf pan. Sprinkle half of the apples on top and 1/2 of the cinnamon sugar mixture on top. Stir the remaining apples into the remaining batter. Pour this on top. Sprinkle with remaining cinnamon sugar mixture. Bake for 40 minutes, or until batter is no longer wet. Remove from oven and drizzle with the 2 Tablespoons melted butter. Bake an additional 5-10 minutes and remove to cooling rack to cool completely. ENJOY!!
Featured Products